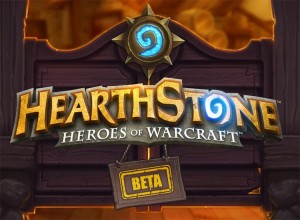 If you signed up a little while ago, you'll know we had some problems & lost most of our initial content but we don't give up that easily so here we go again!
And what better way to kick start a new venture than with a Giveaway for one of the most popular items of the moment? Yup – we got our sticky paws on a Hearthstone Beta Key and we're going to be giving it to one lucky reader who
signs up for our email newsletter
and/or
and/or
If you do all three then you'll have three chances at winning the beta key! We'll put all the names in a metaphorical hat (ok, an excel spreadsheet!) assign them numbers & use the Random Number Generator to pick a winner. Closing date is midnight on Wednesday 27th November so you can have the key ready to play on Thanksgiving or on Black Friday if you have the time off work!
I'm a big fan of Blizzard games – I still play World of Warcraft most days and have been playing the Hearthstone Beta for a couple of months now. I had a chance to try Diablo 3 on my friends account when it first came out but my PC isn't good enough to run it here sadly.
My fellow partner in crime here is Cold from Cold's Gold Factory – he's playing Hearthstone a LOT and has some great articles for getting started from ideas for grinding in-game gold or mistakes that beginners make and how to avoid them. If you're more into WoW then scroll back a few pages in his blog and you'll see he has about 4 years of WoW gold making advice to share with you from his 9 years of playing!
So what are you going to get for signing up or following us? Well, we plan to bring you news from the gaming world, great gift ideas for the gamers and geeks in your life as well as loads of geektastic articles about all sorts of things – from great sci-fi tv programs to real life amazing science stuff and of course, gamer/geek fashion too!
Leave us comments on what kind of stuff you'd like to see here & we'll see what we can come up with for your reading pleasure. We look forward to hearing from you & hope you'll join us in our new joint venture & have your say too.