Today we have our first reader requested topic and that is Steampunk. Ryan asked for some help in finding some smallish items for his steampunk loving girlfriend for Valentine's Day so I took the challenge. I found some gorgeous steampunk bits and pieces to give him and hopefully you, some ideas for Valentine's Day this year.
As you can imagine, steampunk Valentine's Day cards aren't exactly easy to find but I did find a few. I love the Kiss of Cthulhu card – that little 'smooch!' text just makes it perfect for a not-too-soppy card but you can customize it to add a romantic message inside.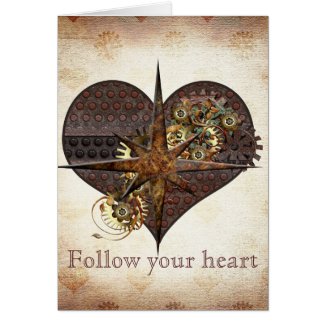 Steampunk Valentine's Day CardCheck Price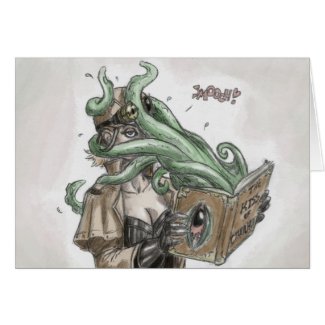 Steampunk Sweetheart CardCheck Price
Steampunk Heart & Love CardCheck Price
For jewelry ideas, I wanted to stay away from the stereotypical gear designs as much as possible and found these three gorgeous pieces instead. I'm not a fan of cuff style bracelets but this pewter & brass alchemical design looks amazing. My favorite is the Icarus necklace though – if you pull the small pendulum bit, you can change the position of the wings. Be aware that it is a huge neckpiece though – almost 4 inches long with a wingspan of almost 6 inches. Definitely a bold statement piece!
Spectrostatic Nocturnium Alchemy Gothic BraceletCheck Price
Icarus Ex Machina Alchemy Gothic NecklaceCheck Price
Technician's Wingstrap BraceletCheck Price
I know Ryan isn't looking for gifts for himself but I loved these men's steampunk pieces so much, I just had to include them! The Kraken ring looks very intricate with quite detailed features. My personal favorite is the much simpler looking Forever Love transformable ring – you can click through to Amazon to see how it transforms. It isn't an expensive piece but for occasional wear, it's perfect. There's more rings to see in our Fantastic Steampunk Rings post too.
Kraken Steampunk Antique Silver Tone RingCheck Price
Men's Forever Love Ring (Transformable)Check Price
Steampunk Airplane Propeller Tie ClipCheck Price
I'm not an expert on steampunk fashion so I stayed away from clothing – there are so many corsets, boots and coats available, I honestly didn't know where to start! The one iconic vision I have when someone mentions steampunk is the top hat with welding goggles around the brim. I know it's probably a bit of a cliche but I love it so I've included a couple of styles of goggles and a gorgeous top hat today. There are loads of steampunk welding style goggles available too but you have to dig in strange categories to find them. Luckily I wander randomly through categories really!
Machinist Goggles, Brown/GreenCheck Price
SteamPunk Top HatCheck Price
Steampunk Victorian Welding GogglesCheck Price
Back to Ryan's request for smaller items, I did find these stunning steampunk design coffee mugs – the steampunk cat is one of a small range of steampunk creatures which includes a chameleon, an owl and a gecko! The other two coffee mugs are more romantic but still in the steampunk style.
Steampunk Heart & Love Coffee MugCheck Price
Steampunk Cat Coffee MugCheck Price
I Love You Steampunk MugCheck Price
Lastly, I found some cool items for the home – I really like the heart and gears design of the clock – a small reminder of love every time you look at it. For a more personal item, the heart & gears small trinket box is probably more suitable. If things are getting serious, you could even use it to present a fantastic piece of jewelry like an engagement ring too
Steampunk Heart Wall ClockCheck Price
Steampunk Valentine Duvet CoverCheck Price
Steampunk Heart Gearwork Jewelry BoxCheck Price
So there you go Ryan – I hope I found some things your girlfriend will like and thank you for submitting your question. I didn't find any steampunk themed chocolates so you'll just have to include her favorites in a gift basket but I did find some Steampunk Robot Coffee!
If you would like us to find a perfect gift for someone, just leave us some details in a comment on any post or you can contact us via Twitter @giftsgamersgeek or our Gifts for Gamers and Geeks Facebook page. If you'd just like to keep up to date with our posts, you can sign up for our mailing list too. We don't spam and we won't sell your details to anyone else either.