Great Gift Ideas for Pokemon Go Players
If you haven't heard of Pokemon Go in the last week or two, where have you been? Sadly my phone is incompatible so I can't play but as the temperatures are reaching 100F this week, I'm kind of glad I'm not addicted to this new Pokemon Go game the world is going crazy for! It's an augmented reality game where you use your phone to capture Pokemon creatures and level them up to fight at Poke Gym's. It's based on Ingress which Cold & I were playing a couple of years ago and is actually made by Niantic, the same company behind Ingress.
Sweatin' At The Gym T-shirtBuy Now
&
Besides all the Pokemon themed gifts below, you will need some other useful gadgets to help in your quest to catch them all this summer so check out this mega post of Pokemon Go gifts and gadgets for gift ideas for yourself and loved ones.
Pokemon Hats & Caps
If you're playing Pokemon Go in the Northern Hemisphere, you're going to need protection from the sun. A baseball cap is a great idea and these Pokemon themed caps are perfect to let other Pokemon Go players know you're playing too.I love the all over Pokemon print baseball cap and I found a bucket hat in the same kind of print too.
Pokemon All Over Print HatBuy Now
Ash Ketchum Hat Cap Set for Adult 3 StylesBuy Now
Pokemon Charizard Trucker HatBuy Now
Pokemon All Over Print Bucket HatBuy Now
Pokemon Jigglypuff BeanieBuy Now
Pokemon Characters Baseball HatBuy Now
Pokemon Clothing & Accessories
If you're not into hats then how about a Pokemon belt or some really fun Pokemon canvas sneakers? I love the Pikachu sneaker with velcro but it's for kids so I'm sure your young Pokemon trainer would love them. There are leggings and jogging pants too but in this heat, I'm not sure I'd be wearing them – great to cover up from the sun though if you're likely to get sunburn. I think my favorites are the original Pokemon starters leggings although the Pokeball leggings are pretty cool too.
Pokemon Poke Ball Web BeltBuy Now
Pokemon Poke Ball Web BeltBuy Now
Pokemon Pikachu All Over Web BeltBuy Now
Pokemon Trainer Ball Jogging PantsBuy Now
Pokemon Original Starters LeggingsBuy Now
Pokemon Pokeball LeggingsBuy Now
Pokeball Women's High Top Canvas ShoesBuy Now
Pokemon Canvas SneakerBuy Now
Kids Pikachu Canvas Sneaker with velcroBuy Now
Pokemon Themed Backpacks & Water Bottles
If you're out for any length of time, you're going to need supplies, a portable charger, and a water bottle too so what better to carry everything than a Pokemon themed backpack? The Pikachu backpack is striking and if you're Team Instinct, it's even the right color for you! I think my favorite is the multi Pokemon character backpack though – it's covered with lots of cute Pokemon and isn't too bright for my style. There's a wide variety of water bottles available so I picked my favorite designs to show you. I love the Squirtle water bottle and at 24oz capacity, it's a nice size to keep you hydrated on hot days too.
Pokemon Multi Character BackpackBuy Now
Pokemon Pikachu BackpackBuy Now
Pokemon Eevee Evolution BackpackBuy Now
Pokemon Pikachu Drink BottleBuy Now
Pokemon Squirtle 24 oz. Water BottleBuy Now
Pokemon XY 800ml Stainless Steel BottleBuy Now
PokeMon Pokeball Jewelry
If you're a really dedicated Pokemon trainer then these Pokeball jewelry items will probably appeal to you. I really like the cute little heart shaped Pokeball earrings but they are for pierced ears. The Pokeball ear plugs are available in a range of sizes so they should have a size to fit whatever size your holes are. Plus it's so much easier to approach another player when they are wearing obvious Pokemon Go gear.
Pokemon Go Pendant NecklaceBuy Now
Pokeball Heart Shaped EarringsBuy Now
Pokemon Pokeball Ear PlugsBuy Now
Pokemon Go T-shirts
So other than Pokemon themed t-shirts, there are also a whole range of new Pokemon Go shirts. It seems that many Pokemon Go players are spending a lot of time outside and walking which is great for all those gamers who rarely see the sunshine. The Pokemon Go t-shirts all seem to relate to the exercise element of Pokemon Go with designs like Power Walk or Going to the Gym. I think I like the Pokemon Go is my Cardio t-shirt best though – cardio is one of my weakness so going out walking to play Pokemon Go is one way of not feeling like you are exercising!
Keep Calm and Catch Em All T-shirtBuy Now
Pokemon Go Is My Cardio T-shirtBuy Now
Pokemon Going to the Gym T-shirtBuy Now
Pokemon Power Walk T-shirtBuy Now
I'm Just Here For The Pokemon T-shirtBuy Now
Pokemon Go Ready to Go T-ShirtBuy Now
Pokemon Go Team Gifts
Another element of Pokemon Go is the team system – three team colors of red, yellow and blue with great Pokemon icons as their symbols make for great t-shirt designs amongst other things. These Pokemon Go Team vinyl decals are approximately 5×5 inches and the black is just the backing paper. They would be perfect for your laptop, a car window or just a bedroom window and are easy to apply and remove. There are also iron-on Pokemon Go Team patches, water bottles and even handmade Team leather keychains available on Etsy as well as loads of other great Pokemon Go themed gifts so if I haven't featured your favorite type of item, go check out Pokemon Go items on Etsy.
Team Valor Pokemon GO – Red Vinyl DecalBuy Now
Team Instinct Pokemon GO – Yellow Vinyl DecalBuy Now
Team Mystic Pokemon GO – Blue Vinyl DecalBuy Now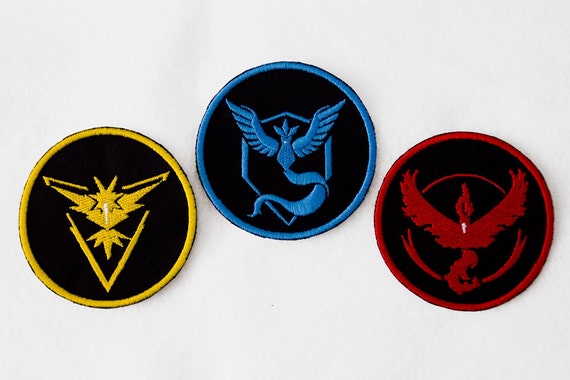 Pokemon Go Team Iron On PatchesBuy Now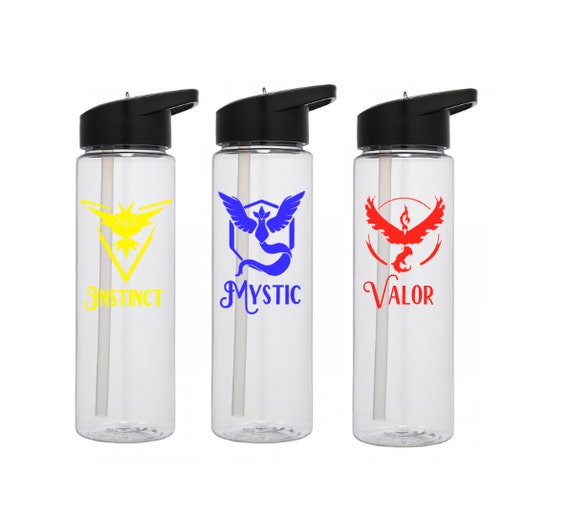 Pokemon Go Team Water BottleBuy Now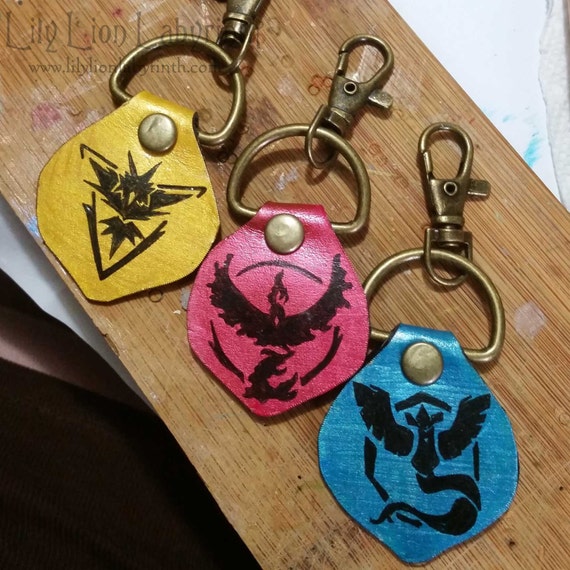 Pokemon Go Team Handmade Leather KeychainsBuy Now
Pokemon Go Team T-shirts
The Pokemon Go Teams all have their own t-shirt designs too. I've included two styles here but there are others available although I didn't like them as much as these Pokemon Go team t-shirts!
Pokemon Go Team Instinct T-ShirtBuy Now
Pokemon Go Team Valor T-ShirtBuy Now
Pokemon Go Team Mystic T-ShirtBuy Now
Pokemon Go Team Valor Trainer 2016 T-ShirtBuy Now
Pokemon Go Team Instinct Trainer 2016 T-shirtBuy Now
Pokemon Go Team Mystic Trainer 2016 T-ShirtsBuy Now
Useful Gadgets for Pokemon Go Players
As with Ingress a few years ago, phone battery life is a major consideration so having a really good portable power bank or in car charger is not just a good idea, it's a must.  Some players are out so long on Pokemon hunts that they carry multiple backup battery packs! The Anker power bank below is a step up from the one that Cold has and that powered his phone for days of Ingress playing so this newer, updated version should be more than powerful enough for all your Pokemon Go needs. Another cool gadget to protect your phone while you're out and about is the waterproof case – you can use your phone through the covering so if it looks like you might get caught in a sudden rain shower, you won't need to worry about your phone at all. Any GPS based game like Ingress or Pokemon Go will chew through your phone's battery, so an external battery pack is an absolute must for any serious player.
Urant 12V/24V Quick Charge 3-Socket Car Charger with LCD DisplayBuy Now
Anker 20000mAh Portable Charger Ultra High Capacity Power BankBuy Now
G-Cord® Waterproof Case – fits iPhone 6s Plus Samsung Galaxy Note 5Buy Now
Mosquito Repellent Bracelets DEET FREEBuy Now
Mosquito Repellent Bracelet – Natural Insect Repeller Deet FreeBuy Now
Compact Plug USB Portable Mosquito KillerBuy Now
Another good idea for Pokemon Go players outside at dusk or dawn are the various ways of keeping the mosquitos away. All three mosquito repellents above are DEET free and last for ages although refills are available for the black bracelet and the USB unit. The bright colorful anti-mosquito bracelets are soft and the fun colors make them perfect for younger Pokemon Go players too. These will help you to keep from getting bitten by critters while you are out hunting those nocturnal Pokemon species. The USB based Mosquito killer one can be plugged into your portable battery pack for it's power source.
Pokemon Umbrellas – Keep Dry When Playing Pokemon Go!
As I'm learning here in St Louis, bright sunshine when you leave home is no guarantee that it will stay sunny! These gorgeous umbrellas will not only keep you dry when the skies open but they have super cute Pokemon designs and two of them are the folding types so should fit in your Pokemon backpack, but the awesome non-folding umbrella has a Pikachu handle!
Pokemon Cute Pet Eevee Foldable UmbrellaBuy Now
New Pokemon Kids UmbrellaBuy Now
Pokemon Eevee Family Foldable UmbrellaBuy Now
Hydration Packs in Pokemon Go Team Colors
Lastly I'm including these Camelbak hydration packs in this Pokemon Go post. With temperatures soaring all over the USA, it's important to stay hydrated and sometimes a water bottle just isn't big enough. They are a bit more expensive than a Pokemon water bottle of course but if you're truly addicted to Pokemon Go or you like to cycle or hike in the hills, they are an easy way to carry a lot more water without really noticing the additional weight. They are also so important for hydration that many summer music festivals will allow you a Camelbak inside the festival grounds.
The red & blue hydration packs below carry about 50oz of water whilst the yellow hydration pack is a step up and carries 3 liters with a 2 liter reservoir. All three hydration packs have a clever hands free drinking tube and a bunch of high tech features to make them easy to clean, safe to use over long periods of time and lightweight, ergonomic design for easy carrying. There is a reason why these are rated so high on Amazon. Camelbak is the industry standard in portable hydration packs and are amazing. They will definitely help extend your Pokemon Go play time and keep you hydrated safely.
Camelbak HydroBak Hydration Pack, RedBuy Now
CamelBak Rogue Cycling Hydration BackpackBuy Now
Camelbak HydroBak Hydration Pack, Pure BlueBuy Now
&
How To Make a Great Combo Gift Pack For A Pokemon Go Fan
If you would like to make the perfect gift pack for a Christmas gift or birthday gift for a Pokemon Go lover you can buy a few of our suggestions and make a Pokemon player very happy. IF you aren't sure what to get I would recommend to start with the following items:
A Camelbak hydration pack.
A team specific T-Shirt
A portable battery pack (Stick with Anker for quality reasons)
A hat
A umbrella
This combination would be sure to please any Pokemon Go fan as well as extended their ability to play safely for a longer duration in the summer heat.  Stay safe and good luck catching your Pokemon.
Don't forget to check out our other great Pokemon gift posts – there's loads of stuff to browse through for that perfect Pokemon gift.