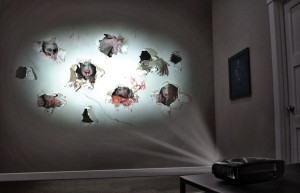 Have Zombies Busting Up Your Next Halloween Bash!
DIGITAL HALLOWEEN DECORATIONS
Special FX for Your Screen
AtmosFEARfx
 has produced some really amazing looking sets of 
digital Halloween decorations
 for display on your television or projecting on the walls with a digital projector.  These digital decoration DVDs are really high quality and add so much ambiance and scary effects to any Halloween display or a Halloween party.  The specific themed DVDs can also add an extra element of fright to any themed night or themed party, such as a Zombie Birthday party or Zombie Prom.
Heck, these digital decoration DVDs would even work great when projected on walls at a Halloween themed rave, lock in, or dance party.  Any true Halloween or horror geek will love these great theme enhancing DVDs. These are some of the coolest Halloween Decoration Ideas that I have came across.
Check out all the different Halloween digital decorations available and be sure to follow the links to be able to watch a sample video from each of the DVDs.
What All Halloween Digital Decoration DVDs Are Available?
You can click on the specific links to view the product details as well as see screenshots and videos of what the footage looks likes for each of these scary and creepy DVDs.
Happy Haunting!