Blizzard has finally announced some of the long-awaited details for the first expansion of Hearthstone, their free-to-play card game. The Curse of Naxxramas is a single player campaign with five 'wings' – taken from the original World of Warcraft raid and including many familiar bosses. They didn't announce a specific release date although they have previously said July 2014 – so hopefully we should see some action in the next week or two!
The first wing will be free to open & play if you start your campaign during the launch event. After that, you will need to pay for the following four wings but you can use in-game currency which will cost you 700 gold per wing. As many have been saving up for this anyway, I'm sure 2800 gold won't be too far out of reach for many players. It's certainly not as high a price as was expected – at least, that's the impression I get from my Twitter feed.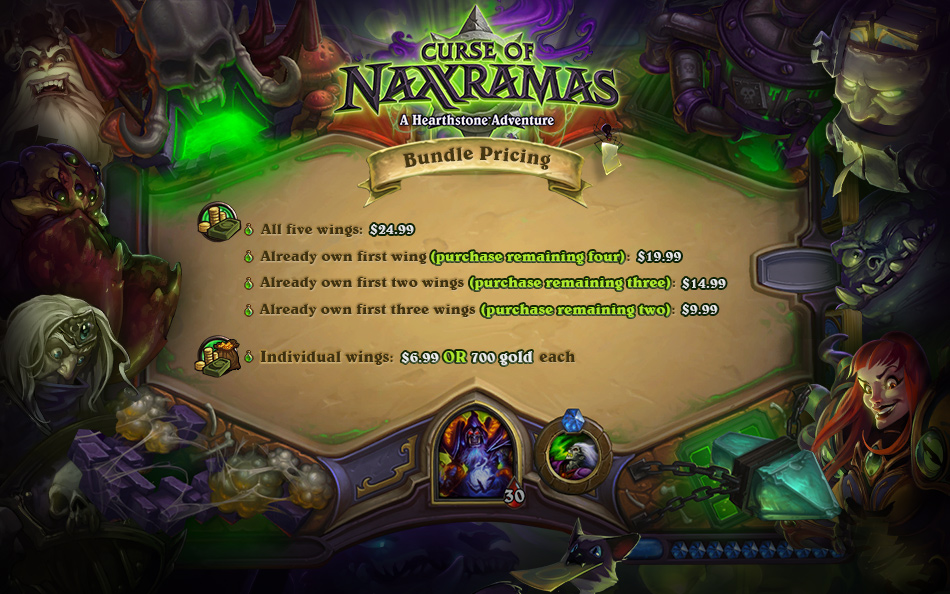 There's also the option to pay real cash for the wings – either separately or in bundles and you can mix and match those too so if you have enough game gold for 2 wings, you can get the other 2 for real cash in a bundle.
As is so often the case, prices for EU/UK & Aus are slightly more expensive – it seems so many US companies just can't get their heads around exchange rates. I do understand that they have to pick a rate & stick with it, they can't be changing prices every few days after all, but unless there's something else going into the calculations, picking a rate of exchange that the UK hasn't seen in years is kind of confusing. It means that at today's rate, Brits will be paying almost $8.50 for each wing.
The additional wings will open up for purchase/play each week after launch so it will be 5 weeks in total before you can get all of the extra cards. However, even if you buy a bundle to open all 4 additional wings, you won't get access to them any earlier – just immediate access as soon as each wing launches on its' weekly schedule.
Beating all the bosses in a wing will open up an Heroic Mode option for that wing – beating all the Heroic Mode bosses will earn you a new card back so you can show off your achievement in normal multiplayer matches!
*********
You may also be interested in:
Unofficial Hearthstone Warlock Guide – great info for beginners and free on Kindles!
Unofficial Hearthstone Mage Guide – more good info, some deck builds and also free on Kindles!
*********