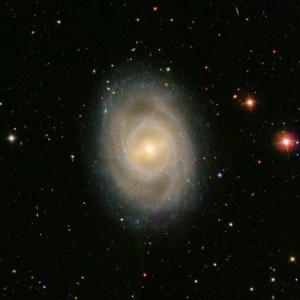 Barred Spiral Galaxy
A few years ago now, I heard about a website called Galaxy Zoo on breakfast tv and it was interesting enough for me to go and have a look at the website. What I found was a massive crowd sourced research project that allowed anyone from 5 years old and up to help the scientists decipher the thousands of images being produced of our night skies and classify galaxies.
It may sound strange to let a 5 year old help but they were very clever in designing a simple multiple choice interface that anyone can use. I check back occasionally and they are still going strong. In fact, it worked so well that they have expanded their project to all sorts of other projects which can benefit from having multiple sets of eyes looking at and classifying things. The overall website is now called Zooniverse and covers not only the galaxies but the moon, plankton or the seabed, bats, cancer research & gene research to name just a few.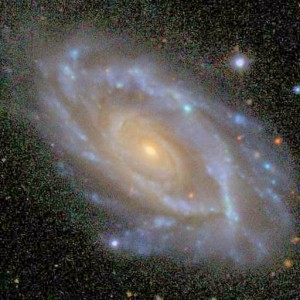 Spiral Galaxy
All these projects have one thing in common – thousands of images to look through and classify – and guess what they've found out? Yup – a pair of human eyes can distinguish stuff from fuzzy pictures that a computer cannot. If you show the same image to hundreds or thousands of people with a strict classification guideline, over time, a general consensus is reached and any 'odd' answers can then be ignored.
This narrows down the data sets to manageable numbers but these sites have gone a step further – they've included forums where keen enthusiasts can talk about the images & get help or more information on them. I know the Galaxy Zoo forum is a hive of activity – people post their favorite picture of the day in relevant threads – it could be the 'Beautiful Spirals' thread or the 'Barred Spiral' but wherever they post them, they are highlighting some of the best images & the scientists get even more manageable data to work with.
If you do get hooked on this classifying lark or you get your kids interested, Nightwatch is an amazing book full of information, star charts, advice on telescopes and other equipment you might decide you need. For fantastic images from NASA all in one book there's the Space: A Visual Encyclopedia which is aimed at children but looking at the reviews, I'd guess adults will love it too!
I love this site and although I know very little about galaxies, telescopes & night skies, seeing all these fuzzy blobs & then getting something like this image to classify makes me feel useful! I only do a few at a time when I have 5 or 10 minutes to kill but when I do get a beauty like this, it makes my evening!
If you have a budding astronomer or a science geek in the family, you might like these geeky Science mugs – they make great stocking stuffers or secret santa gifts.