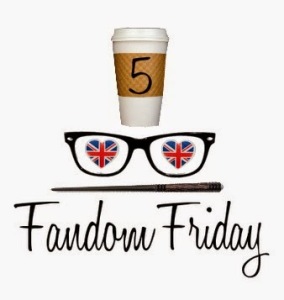 It's amazing how quickly Friday rolls around when you're busy and have other commitments! It's time for Nerdy Girlie's 5 Fandom Friday post which this week is Must See Halloween Movies. Now being a Brit means that Halloween is not really celebrated to the same extent as our American friends but there are a whole bunch of Halloween themed movies that made it big over here too. I found it almost impossible to narrow it down to just 5 movies so I chose my favorite Halloween movies for kids.
It's The Great Pumpkin, Charlie Brown

I only saw It's The Great Pumpkin, Charlie Brown for the first time recently and fell in love with it straight away. I was a big Snoopy fan as a child but somehow, I'd never seen this movie! It doesn't have a single main story line but has smaller stories of all your favorite characters intertwined to form the whole big story. Poor Charlie Brown, trick or treating as a ghost with way too many eye-holes cut into his sheet, gets only rocks for his efforts. Lucy is her usual grumpy self, calling everyone Blockheads and Sally sits patiently with her beloved Linus in the pumpkin patch, waiting for the Great Pumpkin. Meanwhile Snoopy has some great adventures imagining himself being a World War 1 flying ace and  fighting against the Red Baron.
I can see why it's a classic and has remained so for all these years. It really is that good, especially for younger children but don't let that put you off – it's pretty good for adults too!
The Nightmare Before Christmas

If you've never seen The Nightmare Before Christmas, where have you been? Imagine a world where Halloween and Christmas get all muddled up, add in a little romance and adventure and lots of dark colors and you still won't have this wonderful movie worked out! Jack Skellington is the Pumpkin King in charge of Halloween Town. It's his job to make sure that Halloween runs smoothly every year but he gets bored and when he accidentally stumbles into Christmas Town, he likes what he sees and decides to take over Christmas. You can imagine what Christmas would be like if you had ghouls and goblins running it instead of elves – mayhem ensues with lots of misunderstandings which add to the fun of this film.
I love The Nightmare Before Christmas and have watched it multiple times over the years. It is a bit darker than some in my list so I'd say it's good for 7 or 8 year olds and up but equally as entertaining for adults too.
Hocus Pocus
This isn't a movie I watch regularly but it is one of my favorites. Hocus Pocus has a fairly complicated story to try to explain but when you watch, it does all make sense! It's a story of three witches from Salem in 1693 who were put to death for being witches but managed to cast one last spell before they died. In that spell, they would return to life if an innocent lit their black candle on Hallow's Eve. Fast forward to modern day and of course, we have 
not one but three innocent children up to mischief on Hallow's Eve. One of them lights the candle and brings the three old witches back to life. A merry chase follows with all sorts of  weird and wonderful things happening including a 300 year old cat and a zombie from the graveyard.
With Bette Midler as one of the witches, it's a firm favorite here even if the critics didn't like it. In the last 20 years, it has become a cult classic and is shown every year on American tv. Well worth a watch for slightly older children, say 11 years old or more.
E.T.
I don't think any top 5 movie list is complete without E.T The Extra-Terrestrial, it's just that great a movie!
 If you haven't seen it, E.T. is the story of a lost alien being who ends up in the home of Elliot and his young sister Gertie, played by a very young Drew Barrymore. Throughout the film, the alien is just trying to get home and he enlists the help of the youngsters to get there while keeping it secret from their Mom and the authorities. The film is a little sad in places but not too much, even for a younger audience. There are some very memorable scenes – E.T. dressed as a ghost for Halloween or Elliott acting drunk when E.T. tries a drink of beer, for example but the whole movie is filled with similar scenes that catch a child's attention.
With plenty of funny scenes and a gentle approach to everything, E.T The Extra-Terrestrial is a fantastic family film and one of my personal all time favorites too!
Casper – The Friendly Ghost

How could I do a Halloween movie list for kids without including a ghost story? Casper is another of my all time favorites which I've seen many times over the years.  The original Casper was created in the 1930's as a children's book and became a cartoon in 1945! For many of us though, the 1995 movie is the one we are most familiar with. It tells the story of a friendly ghost called Casper and how he becomes friends with Kat, the daughter of the afterlife therapist the owner hires to get rid of the ghosts. Casper also has three not so friendly uncles who are determined to get rid of Kat and her father. They set traps, try to scare the humans and generally cause chaos but Casper manages to foil most of their plans.
It's another great family film, suitable for children of about 6 years old and up but with all the shenanigans and chaos the ghosts cause, I think most adults will enjoy it too!
There are loads of movies I could have included, these are just my personal favorites. Three others I seriously considered were Monster House, Coraline & Gremlins – all great films but not quite perfect for my top 5 list! I decided Coraline was a little too dark humored to fit well, Monster House is a great adventure but so are many other movies and Gremlins? Well, Gremlins takes place at Christmas time so I'll leave you guessing which list that one will be in!